Elizabeth Raphael
Originally, I came to Family Promise Metrowest to complete 40 hours of community service for my high school and I have been volunteering ever since. For the past two years, FPM has become a huge part of my entire family's life. My mother, brother, and I all got involved with the families and have developed strong relationships with many families. One of my favorite experiences was watching one of the little girls in the program learn to use a watering can. Soon the entire day room was soaked, and everyone involved laughed and laughed. This kind of reciprocal relationship is indicative of how Family Promise functions as an organization, and how rewarding it can be for a volunteer.
Lucy Sur
I first became aware of the Family Promise Metrowest organization about two years ago through my own church, the Wellesley Hills Congregational Church. We host families for three to four weeks each year. Our congregation along with other congregations and volunteers in the area, make and serve meals and prepare rooms for families to have private space to sleep in and be together. I started as a dinner preparer and host, and now I help at the Day Center, the annual Walkathon, and the annual fall benefit. There are so many ways to volunteer!
I had searched for a while to find a flexible volunteer opportunity that would directly help people in need living in my own community. Having met many of the families who benefit from this program as well as our very capable Board of Directors, I know I made the right choice. Volunteering with FPM has been tremendously rewarding to me and I love seeing our families bring their lives together with better job and housing opportunities!
Dr. Michael Abrams
My wife and I heard about Family Promise Metrowest about the same time we learned our son had a high school community service commitment, so we volunteered as a family in the hopes he would discover the joy and humility that's only found by serving others. That was almost four years ago. Our very best day volunteering was when our son told us that playing with the children at the day center was his favorite time of the week, and that he got much more than he gave from volunteering. Some people go their whole lives without ever learning that lesson, and FPM makes it easy by allowing members of the larger community to each contribute what they can. We could not possibly be more grateful.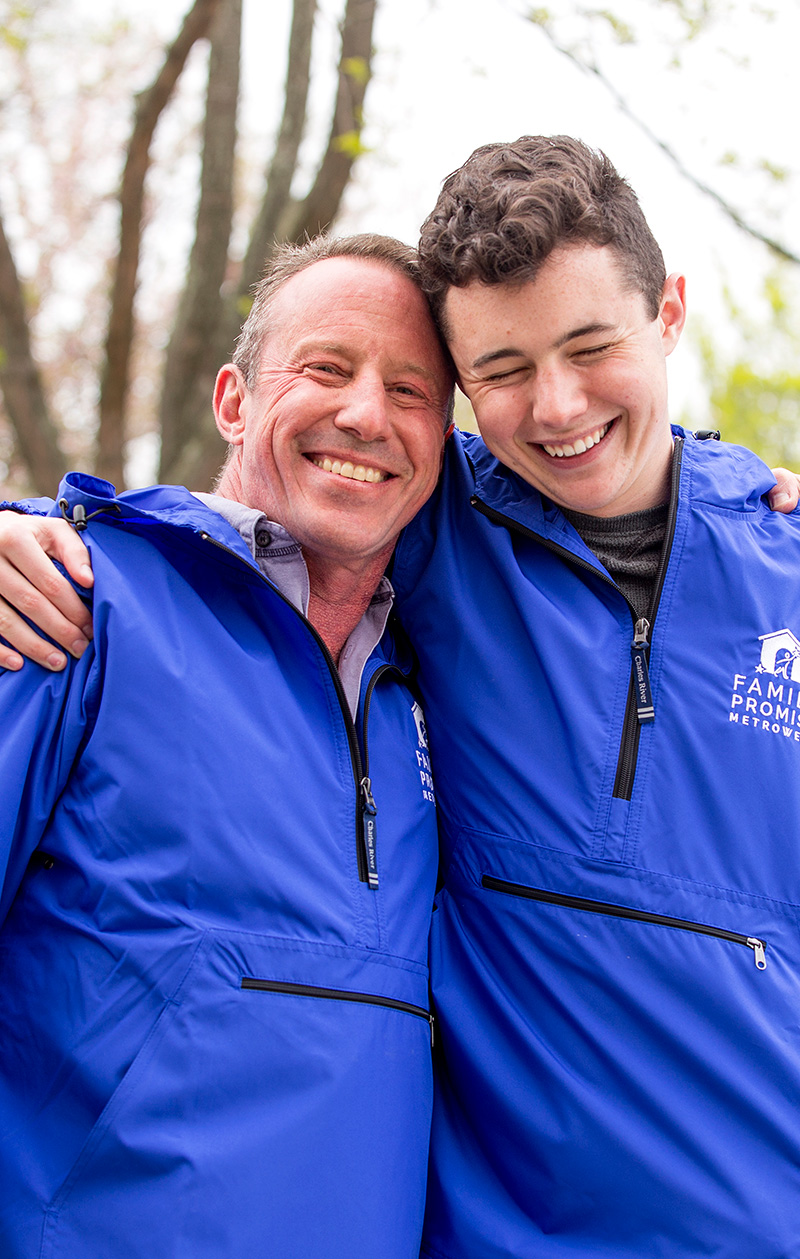 Carol Virshbo
I am a member of one of the founding churches of FPM. I became active in 2008 by preparing meals, hosting dinners, and staying overnight during host weeks. It was very rewarding knowing these small sacrifices made a big difference to the families. These experiences got me hooked. I now help with fundraising events, tutoring, interview preparation, Day Center coverage, and anything else that I can assist with. My reward for volunteering is watching the families move into transitional housing and then out on their own. I love volunteering for FPM because you can do as little or as much as you want but everything that you do helps to improve the lives of our families.
Maureen Wooster
When I first moved to the area, I was looking for volunteer opportunities and was having difficulty finding the right placement. I then heard about Family Promise Metrowest through a friend and was welcomed with warmth and appreciation when they learned of my skills in Event Management and Human Resources. I really like the pragmatic approach FPM uses as they focus on helping families who are motivated to make a better life for themselves and their children.
I feel really appreciated by the staff and other volunteers and have made some great friends since volunteering with FPM. I would encourage others to volunteer as there are so many opportunities—from admin and IT to babysitting and event support. There is a volunteer role for anyone who wants to help as much or little as they are able.
Zachary Abrams
I began volunteering at Family Promise to fulfill a community service requirement for my school, but it's become one of the most important parts of my life. Spending time with the children there has been one of the most rewarding things I've ever done. Whether giving guitar lessons or taking them into the Natick park to play soccer, volunteering on Sundays has always been the part of my week that I've looked forward to the most for the past three years. I would recommend volunteering at Family Promise because it can change your outlook on life. I've learned the rewards of service and continue to learn more and more every day from the kids.